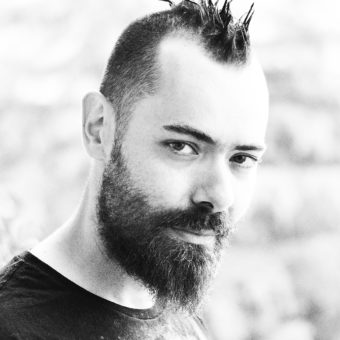 JIMIS EXARCHOS
3d Character Sculptor – Graphic Designer
Experience
ProElectro Event Production
Graphic Designer
Responsible for creative and communication with printing companies.
Making designs (banners, photo booths, posters, etc) through design programs like Adobe Photoshop, InDesign, Illustrator & ZBrush.
PlanetWorks S.A.
Graphic Designer
Creator for Hard Covers CD and CD covers
Columbia Advertising
Graphic Designer
Director of Creative outdoor Advertising Signboard
Ototop
Graphic Designer
Creator of exterior design for cars
Alida Mavrogeni – Studio Photography
Photo Editor
Edit and Retouching fashion photos
Online Advertising
Graphic Designer
Responsible for the creation of Promotional Leaflets for Super Markets.
Profile Magazine
Graphic Designer
Responsible for creative covers.
Knowsys – Decathlon Advertising
Graphic Designer – Sketcher
Responsible for creative images with Corel Painter for covers.
Education
FaceToFace
Zbrush Diploma – 3D Digital sculpting models – Texturing – Painting
After Effects Diploma – Digital Visual Effects – Motion Graphics & Video Compositing
IEK Intergraphics
Photoshop – Graphic Design
Orneakis School of Applied Arts
Illustration and Caricatures -Graphic Design
Technical High School of Ηalandri
Graphic Design
Skills
Adobe Photoshop
Zbrush
Painter
Illustrator
InDesign
————-
Microsoft Office (Word, Excel, Power Point)
Internet
Contact Me